5 most beautiful mountains in world
From vast peaks that take days to climb to bizarrely shaped bluffs that love the camera, great mountains have little trouble making us stop and stare.
Few things compare to the sense of awe you'll feel when you've reached the summit of a giant.
Here, we've picked the most beautiful mountains around the world and shared some top tips for visiting them:
1. Matterhorn, Switzerland/Italy

This Alpine peak spans the border between Switzerland and Italy. At 4,478 metres it's smaller than the famed Mont Blanc (4,810 metres), but its striking pyramidal shape – not to mention its spot overlooking the cosy Swiss ski town of Zermatt – makes it the poster child for the Alps.
Today, upwards of 2,000 hardy folks ascend the peak each year. If you're determined to be one of them, the Hörnli ridge route is the most popular and is best attempted in summer. Don't underestimate the challenge, listen to your guide and make sure you're kitted out, crampons and all. Otherwise, take a funicular ride from Zermatt to Rothorn for jaw-dropping views without the climb.
2. Denali, USA
Mammoth Denali is the highest peak in all of North America. Craggy and snow-covered, it soars to more than 6,190 metres above sea level, rising from the stark valleys of Alaska's Denali National Park. The mountain was once known as Mt McKinley, but after many decades of controversy, in 2016, the peak was officially dubbed Denali, a name long used by native peoples.
The peak can be seen from the Denali Park Road, which spools out for some 92 miles. Though temperatures are bracing, you'll likely get the best views of the mountain in winter, when the cloud cover is less. During summer you can drive the first fifteen miles of the road, which is studded with stop-offs offering postcard-worthy views of the mountain from around mile nine. Look out for grizzly bears too!
3. Kirkjufell, Iceland
The strangely conical Kirkjufell, or "church mountain", is often touted as Iceland's most photographed sight. It's not hard to see why. The yellow-green bluff looms over West Iceland's Snæfellsnes peninsula, with pretty waterfall Kirkjufellsfoss and several sandy beaches in its wake. Such is its drama that the mountain even made a cameo in series seven of cult TV show Games of Thrones.
Park up in the little seaside town of Grundarfjörður and follow the hour-and-a-half hiking trail to Kirkjufell's summit. The route is steep and the terrain challenging, so best travel with a guide unless you're a seasoned climber.
If you don't have a head for heights, there's a trail that loops around the mountain too. Time your trip for autumn or winter for a chance to catch the northern lights dancing over the mountain top.
4. Table Mountain, South Africa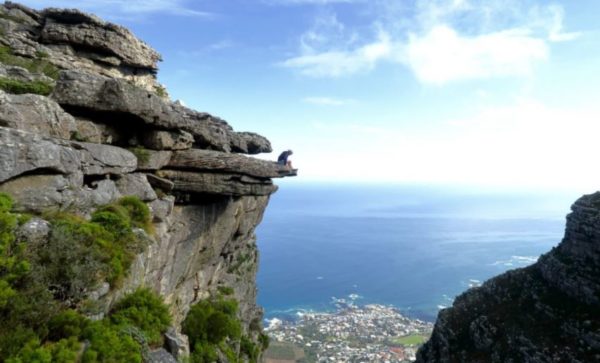 One of the world's most famous pinnacles, Table Mountain watches over the South African city of Cape Town from 1,085 metres at its highest point. As the name suggests, it's known for its distinctive flat top and also for its diverse wildlife. Keep an eye out for endemic African species such as dassies: cute-as-a-button, furry mammals that look a little like plump meerkats.
You may not know that Table Mountain is among the planet's oldest peaks too. It's more than 200 million years old and the first recorded ascent was back in the early 16th century by a Portuguese explorer named António de Saldanha.
If you'd prefer to take the long way, follow the zigzagging Platteklip Gorge hiking trail, which should take between 2–3 hours depending on your fitness level. Summertime (November–February), when conditions are dry and sunny, is the best time to visit.
5. Vinicunca, Peru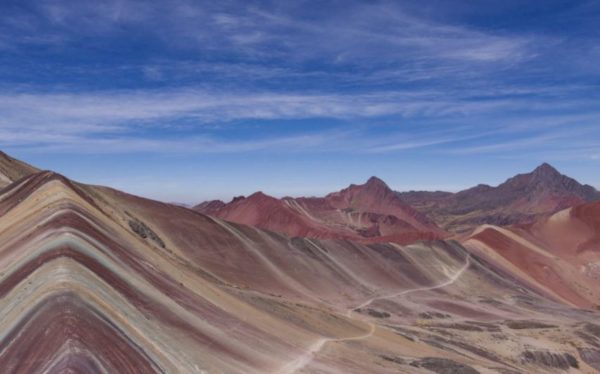 Peru's pink and yellow-streaked Vinicunca or "Rainbow Mountain" seems to belong on another planet. But it's part of the Peruvian Andes, right here on Earth. The mountain, whose colours are caused by mineral deposits, is around a three-to-four-hour drive southeast of Cusco, a beautiful city filled with Spanish Colonial buildings.
Vinicunca's summit is reached by the challenging, six-day Ausangate trek. Parts of the trek will be more than 4,800 metres above sea level and the altitude can be a real challenge – drink plenty of water, take regular breaks and carry paracetamol with you.
It's worth it, though, for the otherworldly views and the route's relative quietness when compared with the tourist-choked Inca Trail to Machu Picchu. Trail conditions are at their best and driest through Peru's winter months: April–November.
The post 5 most beautiful mountains in world appeared first on .